Skills Development Scotland (SDS)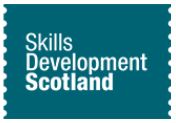 SDS for Partners
Skills Development Scotland is the national skills body supporting the people and businesses of Scotland to develop and apply their skills. Click here to find out more about SDS for Partners.
SDS Support for Employers
Grow your business, develop your skills base and invest in talent through the apprenticeship family.
Find out more here on how to take an apprentice. Get expert advice on apprenticeships, SDS can give you the support you need to get started. Free one-to-one support.  There are apprenticeships in every sector, with more than 80 types of Modern Apprenticeship, there are opportunities in every industry
Contact our Employer Engagement Team for free advice and support to get you started with apprenticeships.
SDS Support for Parents
When it comes to making career decisions, parents/carers are one of the first people their child will turn to for help. My World of Work will show parents how to help their child to explore the routes they could take, so they will feel confident in supporting them to make important decisions. Click on the links to find out more:
SDS My World of Work
The help you need for the career you want.
My career options – Start by learning more about yourself, including where your strengths lie. You'll get suggestions to help you explore your options, from school subjects through to changes in your career.
Learn and train – Search for courses, and get advice on UCAS and college applications. There's info on qualifications, volunteering, and funding – including SDS Individual Learning Accounts.
Getting a job – Find job or Modern Apprenticeship vacancies. Then use our tips and tools for CVs, application forms and interviews to help you get it.
More information for pupils, teachers and employers can be found here.